Visual Thinking Training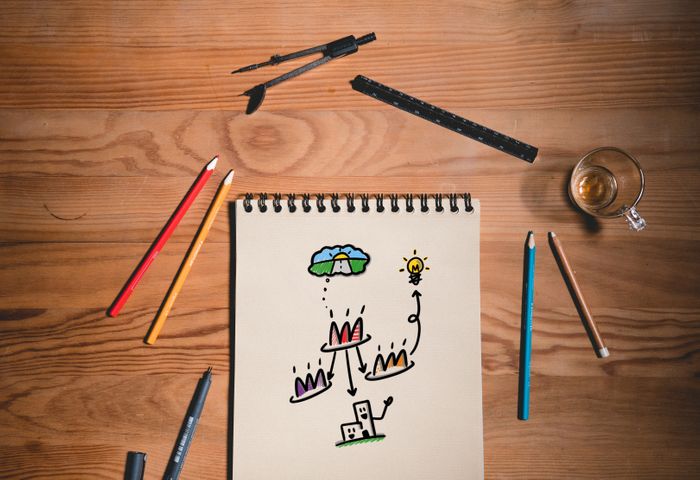 Cultivating your creative rocket fuel - Training in Visual Thinking
What is Visual Thinking?
Visual thinking is a technique which supports you in effectively exploring and communicating your thoughts and ideas using pens, paper, and more. Whether you're looking to drive better conversations; unravel a complex problem; or level up your presentations; visual thinking helps by making things easier to understand, more memorable and engaging.
What should I expect?
During our training, you will be guided from the very start, beginning with the absolute basics. We'll then move onto things such as: containers and text; colour and space; people; graphics; icons; layout; sketchnoting; and more. With plenty of opportunity to practise what you're learning, and with hints peppered throughout the day, you will grow in confidence and develop a new skillset which you can take away and use immediately. Each participant receives a starter kit of pens to use during the training and beyond.
But I can't draw!
This a commonly held limiting belief which makes people freeze up when they're given a pen. However, what if we were to ask if you can doodle? I'm sure the answer is different. That's how we like to look at our visual thinking - a repeatable and structured approach to doodling.
So what we're trying to say is - YOU NEED ABSOLUTELY ZERO ARTISTIC TALENT to become a skilled structured doodler.
How it's delivered:
Our visual thinking training can be delivered both in-person and online.
For our latest public training dates or to discuss a private booking, check out our website here: https://www.atticushunter.co.uk/courses
"I wish I had done this training years earlier! I used to hate drawing because I didn't think I could do it. In one day, I was proven wrong and learned an amazing new skill which I use daily."
- Company Director, Edinburgh