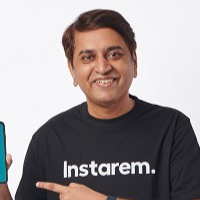 Yogesh Sangle
Global Head of Instarem
,
Instarem
Yogesh is the Global Head of Instarem, a leading digital cross border payments platform that enables consumers and SMEs to send and collect international money transfers conveniently and securely.

Based in the company's headquarters in Singapore, Yogesh is responsible for expanding the business across its completely disruptive platform. This involves launching innovative products that will break currency borders and add value to a wide range of customer segments, while at the same time leading consumers and businesses to relook at how they move funds across borders.

Yogesh has led and managed the regional businesses for many well-known companies within the banking, cards and remittances sector, including PayPal, Citibank and MoneyGram. He has spearheaded the digital transformation for some of the global brands in the region, many of which were achieved through the right lend of digital, social and analytical skills – be it acquisition, conversion or experiential engagement.

Yogesh has an MBA from the University of Chicago (Booth School of Business), a Masters in Management Studies, specialising in Marketing from Jamnalal Bajaj Institute of Management Studies and initially graduated from the University of Mumbai with a Bachelor in Mechanical Engineering.