18 Aug 2021
C&G 2357 NVQ in Electrical Installations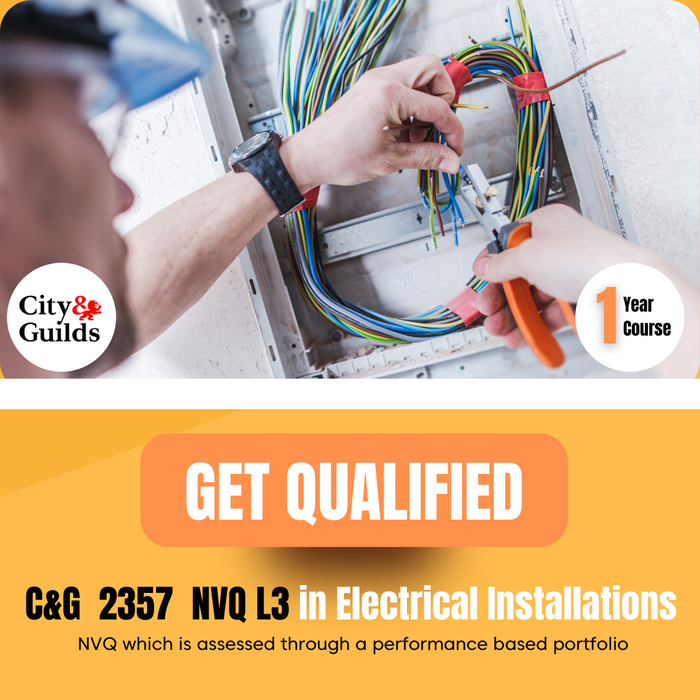 Who is it suitable for?
This is the ideal course for those who have experience of the industry.
Candidates will need C&G 2330, 8202, 236 or 2365 Level 2 & Level 3
Employed in the electrical industry covering a range of installation work, eg, Commercial/Industrial three-phase installations.​
What the course covers
The 2357 is carried out at the candidate's place of employment and assessed through a performance-based portfolio. During the NVQ we will help you to:
Expand on C&G 2365 units 302, 303 and 305; prepare you for the Transfer of Knowledge from 2365 Bridging Assignment.
Health & safety legislation, planning & selection for the installation of electro-techinical equipment and systems & fault finding.
Prepare you for Professional Discussion: a focus on what your responsibilities are towards your clients.
One of our experienced Electrical Academy assessors will visit you 3/4 times on-site to help you build your site-based portfolio.
​
Who is it for?
The City & Guilds 2357 qualification is aimed at electricians who require an NVQ Level 3 in Electrical Installation, which can increase employment opportunities.
* It's now mandatory for all candidates who enrol onto the 2357 NVQ to complete their AM2 (Assessment Measurement) assessment prior to finishing the portfolio. This 3-day assessment is delivered at designated NET training centres.
Assessment and exams
A performance-based portfolio which assesses C&G 2357 performance units. This involves the entire range of electrical installation work for the site-based portfolio and on-site assessment. (C&G 2357 units include 311-313, 315-318).
The AM2 (2357-399) is a 3-day assessment.​
Hands on training for success
​​All Electrical Academy course trainers have decades of teaching experience. Your assessor will work with you to ensure you meet the relevant C&G requirements to complete the course.